"What should we pack for our stay at Carefree Cabins in Hocking Hills?" It's a question we receive quite often via phone and email. The information we include on our website regarding cabin amenities is pretty high level and doesn't go into great detail regarding all the extras we provide. Most of our guests are very pleasantly surprised when they arrive at one of our cabins for the first time and start looking around. We really tried to think of everything so our guests can enjoy a truly "carefree" escape to Hocking Hills.
So, what exactly do we include at each of our cabins? And what do you need to bring when you come for a Carefree Cabins getaway? Well… We're about to tell you what to include in your Carefree Cabins packing list! 🙂
You won't have to bring much, that's for sure.
Basically, you need to bring clothing, personal toiletries, and some food & drink. Food and drink is optional, but many of our guests like to "hunker down" and never leave the cabin. Just read a few or our awesome guest reviews and you'll see why.
We encourage everyone to get out and visit our local eateries & watering holes. However, we certainly won't fault anyone for wanting to just chill at the cabin. You could also wait until you get here and make a supplies run to the local Kroger or Walmart for food & drinks.
We also offer several awesome Goodie Tubs you can purchase as an add-on to your cabin reservation. We'll have them waiting for you at the cabin when you arrive.
Of course, our cabins are pretty private and secluded, so clothing could also be considered "optional". But if you're going to venture out, I'm sure the locals, other visitors, and Hocking County law enforcement might appreciate it if you are fully dressed. At least wear a loin cloth or throw a sheet around yourself! 😉
Seriously though, we do offer pretty much everything you need and you shouldn't have to pack much for your stay. This is especially helpful for our guests who ride motorcyles. Not only do they appreciate our paved asphalt driveways, but they also don't have to haul much on their bikes.
So, with that out of the way, here is a list of all the things we provide at each of our Carefree Cabins. Brace yourself, it's a long list!
Fully Appointed Kitchen:
Refrigerator/freezer (compact under-counter size at Snuggle Bear Bungalow cabin)
Microwave oven
Electric Oven w/4-burner cooktop (Lovebirds Landing and Snuggle Bear Bungalow have 2-burner cooktops and no oven)
Dishes
Glasses
Coffee mugs
Silverware
Hand towels & washcloths
Pots & Pans (including a pizza pan & cutter)
Colander / strainer
Variety of cooking utensils
Variety of containers
Coffee pot
Coffee (filters & creamer too!)
Tea (herbal variety)
Toaster
Blender
Crock pot
Dish soap
Dishwasher detergent (Yes, there is a dishwasher!)
Paper towels
Trash bags
Zip-lock bags
Foil
Saran wrap
Spices
Pan spray
Basic baking supplies (flour, sugar, brown sugar, baking soda)
Outdoor grilling basket with plastic plates, cups, and utensils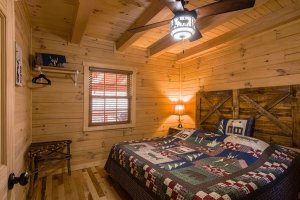 Bedrooms:
"Corsicana" Hybrid Memory Foam Deep Comfort Sleep System mattresses (see individual cabin pages for bed sizes)
Freshly laundered bed linens & blankets
Pillows (3 per bed on the King's)
Hangers and various hooks for your clothes
Bathroom:
Bath & hand towels, washcloths
Toilet paper
Tissues
Hand soap
Laundry tabs (full-size washer & dryer available at all cabins except Snuggle Bear Bungalow)
Iron & mini ironing board
Hair dryer
Air freshener
Emergency First-Aid kit
NOTE: We do not provide personal toiletries, so bring your dopp kit!
Also Provided (at no extra charge):
Separate beach towels for hot tub use
DVD/Blu-Ray player (bring movies, or rent at several local Redbox locations)
Free WiFi Internet access
Telephone (land-line) with free long distance calling
Firewood
Roasting sticks for the firepit
Long handled lighters
Propane for the gas grill
Walking sticks (please leave them for the next guest!) 🙂
Umbrella
Several themed family-friendly games
Small library of books & magazines for your reading enjoyment (at 4-person cabins)
Flameless candles for indoor use (no real candles allowed in cabins)
Citronella outdoor candle
Emergency night-lights/flashlights in case the power goes out (hey, it happens in the hills!)
Broom & dustpan
Snow shovel & ice-melt salt (seasonal)
We've tried to think of everything needed to ensure a stress free Escape to Hocking Hills when you choose to stay at Carefree Cabins! Kinda like Ragu…. IT'S IN THERE! 
So, what are you waiting for?? Book your favorite log cabin today and we'll keep the porch light on for ya!