Gift Items & Floral Arrangements
Make Your Cabin Stay Extra Special (and Carefree)!
Celebrating a wedding anniversary, a birthday, or other memorable event, should always be a special occasion. Carefree Cabins gives you the chance to make it extra special by providing thoughtful gifts and floral arrangements you can add on to your cabin reservation.
Whichever cabin you are in, we'll do everything we can to help you celebrate in style. Our staff will be delighted to make this an unforgettable getaway celebration, because if it's special for you, it's special for us.
Surprise the one you love with any of our Floral arrangements or Gift Items. Or take home a Souvenir to remember your stay. We also have Goodie Tubs available to add on to either base choice for convenience and touch of excitement and fun.
All Floral and Gift/Souvenir items will be delivered to your cabin prior to your arrival. Your own personalized message will be in a card and placed in the cabin to say who the gift is from (Personalize gift card message is required upon finalizing your order).
Minimum 3-day advance notice is required for add-on orders of floral arrangement, gift items, and goodie tubs. Less than 3-day notice will incur an additional $15 delivery charge.
No matter what the occasion you're honoring, let us help make the moment memorable!
For special occasions like birthdays and anniversaries…or just because!
1/2 Dozen Rose Bouquet
Give a sentiment of romance with this vased arrangement of six lovely roses, filler flower, and greens.

Note card included. (Choice of Rose Color-Red, Pink, Yellow or White)

Mixed Floral Bouquet
Carefree and casual, the Mixed Floral Bouquet is a lovely mixture of carnations, pom-pom daisies, lily's, straw flowers vased arrangement, filler flower and greens.

Note card included. (Flowers may vary)

Dozen Rose Bouquet
Surprise your loved one with an expression of classic romance with this vased arrangement of one dozen beautiful roses, filler flower and greens.

Note card included. (Choice of Rose Color-Red, Pink, Yellow or White)

Bed of Roses Romance Package
A Very Romantic Touch that will be appreciate upon arrival at your cabin!

Heart shaped silk rose petals comes with a rustic burlap bag to take them home in. Mylar balloon with special message, personalized gift card, chocolate kisses and three red flameless candles to set the mood. Flameless candles must remain at cabin, everything else is yours to keep!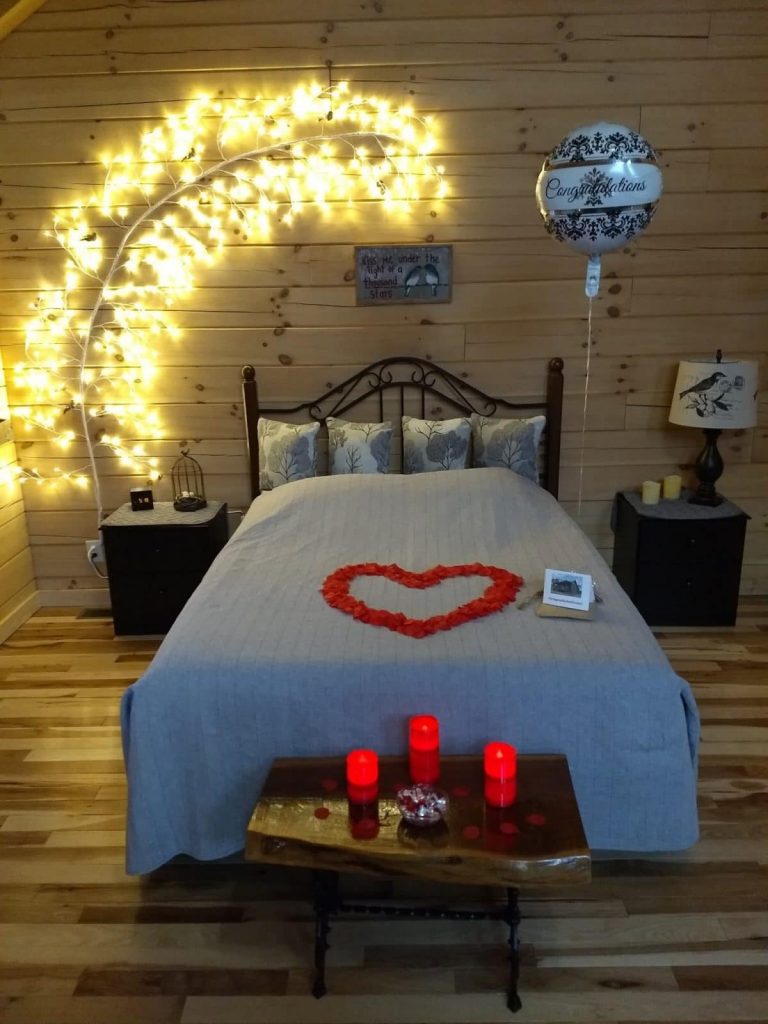 Add cherished memories with any of our gift items and souvenirs!
Carefree Cabins Souvenir Mug
Embossed medallion with "Carefree Cabins" & "Hocking Hills, Ohio"

Embossed Creekside Serenity cabin in the woods scene

Available Color Choices: Sandstone or Denim

Handmade in USA by Deneen Pottery.

Kiln fired to 2150ºF, durable/safe for microwave/dishwasher/oven/freezer

All stoneware is lead free & food safe.

Gift box included (shown in picture)

Can be purchased with reservation during checkout, or call to order
Carefree Cabins Spa Gift Box
Our classic Spa Gift Box has been a bestseller among guests. It's a great gift for so many occasions - birthday, Mother's or Father's Day, anniversary, and more. The recipient gets a little of everything displayed in our crate box with our poppy crepe paper flower. They will enjoy a Rosemary Lavender scented 2 oz. lotion, 2 oz. bath salts, roller-ball perfume, room spray, and 1 oz. honey scrub.
Hocking Hills, Ohio Tree-of-Life Souvenir
A fun & memorable gift upon arrival to your cabin

A valued & decorative souvenir to take home and cherish forever!

12" wrought iron sign has a hole at the top for hanging

Also includes wooden block base to display on table or bookshelf

For display indoors or outdoors
Snuggle Hug Hot/Cold Spa Neck Wrap
Snuggle Hug is a microwavable Hot/Cold Spa Neck Wrap & Pain Relief Therapy

Lightweight, heats efficiently and evenly. Not too heavy on the shoulders.

Retains heat for ~30 minutes with cotton material, ~45 minutes with flannel material

Double stiched construction, inserts have 5 separate chambers so rice doesn't bunch up or slide around

Material: Flannel or Cotton Lodge Themed (actual prints may vary)

Includes a ribbon (color varies), poem, uses, & directions

Washable/Removable covers with Velcro closure. Use Hot or Cold, heat in microwave or freeze.
Add any of our Goodie Tubs to a Floral or Gift Package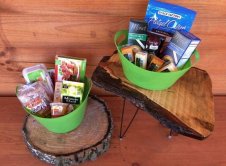 Welcome Tub
Assorted Ohio Amish Block Cheeses

Ohio Amish Smoked Sausage

Perfect if you're arriving late and just want to unpack, check out the amenities, and enjoy a little something while you relax.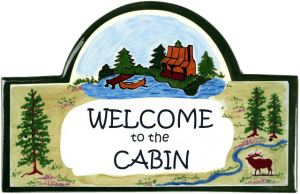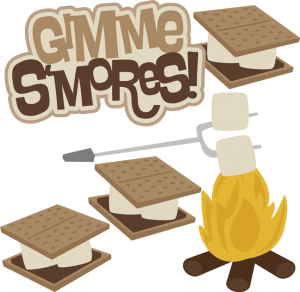 Fire Pit Snack Tub
A tub of snacks to enjoy during a fun filled getaway full of fires, games, and cherished memories with loved ones. Includes:

S'mores (marshmallows, Hershey chocolate, graham crackers)

Assorted crackers, cookies, and chips
Sleepy Head Tub
Cinnamon Bread Loaf w/Stick of Butter

Enjoy having breakfast all ready to prepare in the fridge upon arrival for the weekend. Serves up to 4 guests for one morning.