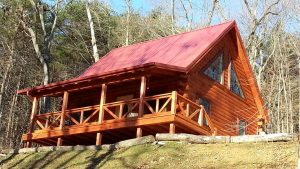 Carefree Cabins is pleased to announce the addition of our third log cabin, the Hidden Gem Retreat, which is now available for booking through our website starting August 1st.  
The Hidden Gem cabin was built and has been in operation since November 2013. However, it has been managed by a 3rd party property management company.  As of August 1, 2017, Carefree Cabins will take over operations and management of the Hidden Gem. 
The Hidden Gem log cabin is very similar to our two brand new cabins, only it's slightly smaller. The floor plans and ammenities are pretty much identical across all three cabins, so you never have to worry about missing out on something if your "favorite" cabin isn't available. Hidden Gem has received rave reviews over the past 3+ years and gets a lot of repeat business from very happy guests. 
If you're interested in booking the Hidden Gem between now and July 31, 2017, you can certainly do so by visiting Wyrick's Hillside Lodges and checking availability there.  But if you have plans to Escape to Hocking Hills after July 31st and you'd like to stay in the Hidden Gem, you'll want to check availability through our website. 
The Hidden Gem Retreat log cabin in beautiful Hocking Hills, Ohio