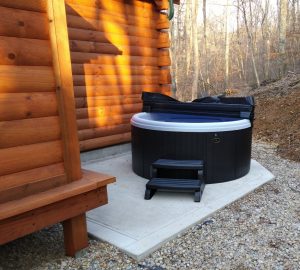 We had a little delay in final cabin pictures due to a last minute furniture change. 🙂
We wanted to make sure the cabins were finalized and all buttoned up before the pictures, so we've now delayed our poor photographer twice… Thankfully he's a good sport. He's now scheduled to come this Sunday and we plan to have the final pics up early next week. Of course, we'll announce them on our Facebook page and here on our blog.
Here's a picture of the hottub at Creekside Serenity just to prove there is one!  LOL  🙂  There's a similar one at Sandstone Oasis, just a different color.